Highrise Co., Ltd. is a construction company
thatspecialized in concrete placing construction
using ultra-high pressure concrete pump.
Highrise, as a ultra-high pressure concrete placing construction specialist, is taking a leading role for efficient construction site operations by applying our high quality constructing technology to keep pace with recent trends, enlargement and manhattanization of the building in South Korea and overseas market based on the experience of overseas high-rise building construction.
Since founded in 2001, we have been involved in more than 300 construction site in South Korea and overseas and grown into the most trusted company in the industry through our systematic field operations for safety and customer satisfaction above all.
Our remarkable achievements in South Korea are performing a large number of high-rise building project, such as Dogok Tower Palace, Mokdong Hiperion, Haeundae Centum Star, Haeundae Weve The Jenis, Yeouido FKI Tower, etc.
We also have been recognized our best technology from customers while performing IB Tower, ST Regis, Damansara project in Malaysia, as well as Marina One, UIC, Bedok project in Singapore.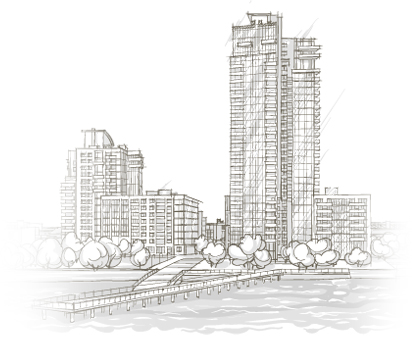 In the field of civil engineering site, Highrise has carried out Cable Stayed Bridge construction for the highest bridge in South Korea, Yi Sun-sin Bridge, Incheon Bridge and Geogadaegyo Bridge, and we have succeeded in performing the operation that pumping lining concrete inside Jangsu tunnel project.
In addition, we have operated our concrete placing boom in special sector of Gwnagyang LNG Tank Terminal, Pohang Coal Silo and Dangjin Hyundai Steel Cokes Tower in South Korea.
We, Highrise will contribute to the development of our customer and construction industry by implementing an advanced mechanized construction in building site based on our knowhow and technology accumulated in the meantime.
Furthermore, we will promise to make constant research and efforts without being satisfied with our present to become the global company leading 21st century.